Thermometer charts are helpful for monitoring your progress toward a goal, such as revenue for the month. A thermometer chart is broken down into segments, so if your sales are behind pace, for example, a thermometer chart can help you see specifically which revenue streams are underperforming. Thermometer charts are available on the trend view for segmented metrics, like revenue breakdown, when you have a current period selected (that is, any period that includes the current month).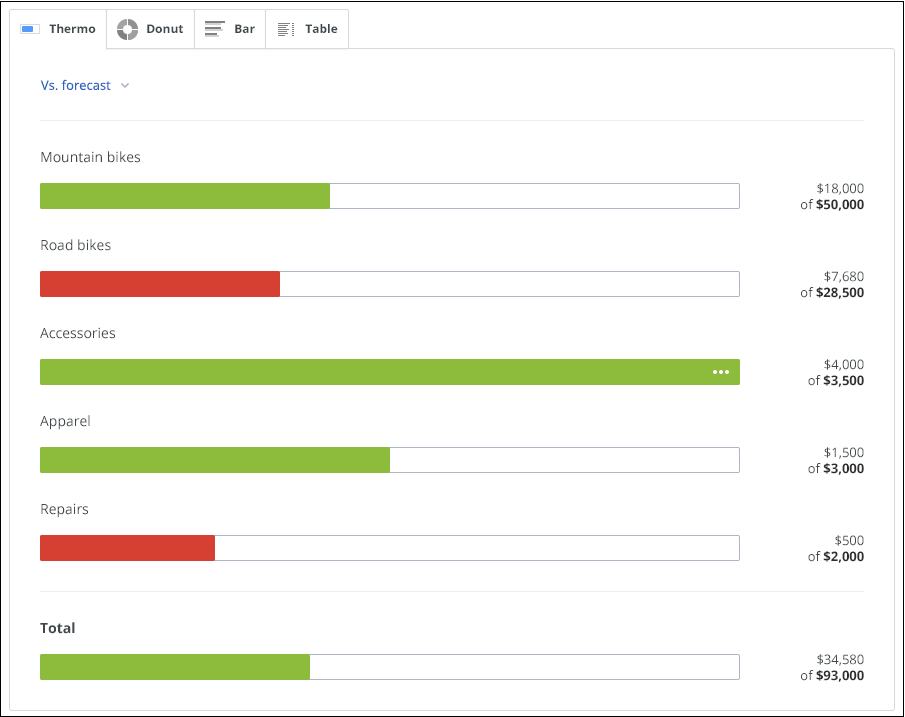 How to read the thermometer chart
The thermometer chart shows a bar for each segment, and the segments are listed in the same order as in your forecast. All of the bars are the same length, regardless of how big the values are for each segment. Basically, the bar represents 100% of the target value. The filled area of each bar shows the percentage of that target value achieved so far. 
The target value is drawn from the period you choose with the comparison selector. For example, if you choose vs. forecast, the target value is the one set in the forecast. To the right of each segment, the actual and target values are shown in "X of Y" format. Negative values are shown in parentheses. The filled area is red or green to show whether the actual result so far is good or bad news — based on the expected target amount to date (through the last completed hour). 
Choosing actuals and comparison periods for the thermometer chart
Use the date selector at the top of the trend view to choose an actuals period. The thermometer chart is only available if you choose a period that includes the current month:
Then, choose a comparison period using the selector in the upper left-hand corner of the thermometer chart. The choices here are vs. forecast, previous period, or previous year:

The target values shown in the thermometer chart will be drawn from the comparison period you choose (i.e., your forecast, the previous period, or the same period in the previous year).