The LivePlan Benchmarks are designed as a real-time tracking tool, comparing the data in your plan's forecast to average data for your industry.
This also means that, if your forecast has a start date in the future, your forecast data will not display in the Benchmarks tab until that date. As an example, here is a plan with a future start date, as set in the Options tab:
If you view the Benchmarks tab before that start date, you'd see "No Data" in the Forecast column: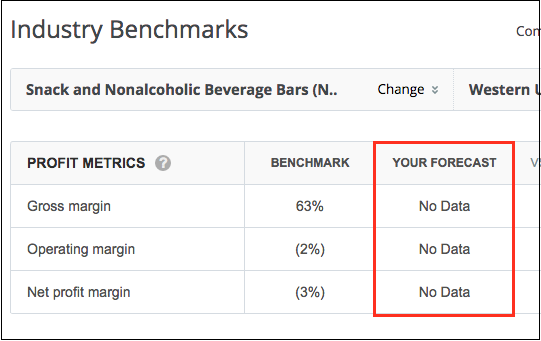 If you'd like to take a look at how your plan compares to the Benchmark data before this future date, you can temporarily change the start date of your forecast to the current month, or a month within the current fiscal year. Click on the Options tab and select the current month:
With this change in place, you'll now be able to see your forecast data in the Benchmarks tab:
Once you've done your analysis of the Benchmarks data, change your forecast start date back to the original date.